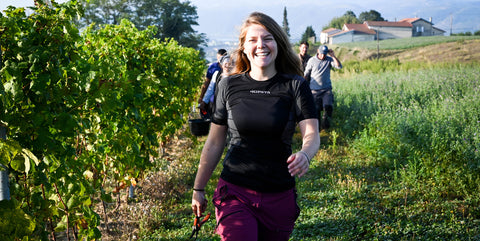 Meet Sandra Combat
At 27, Sandra Combat is making huge strides at her family's Vineyard in the Northern Rhone.
Sandra is the first female born to the Combat family in 100 years, and the first woman to head up the domaine since its creation by her great grandfather Louis, in 1933.
After growing up among the vines and developing a profound love and respect for the land, Sandra went on to obtain degrees in English & Chinese and Business. She spent time before travelling and working at vineyards worldwide, including a stint for Baron Philippe de Rothschild in China.
What does she hope to bring to Domaine des Combat? 
"I've travelled a lot, and have lots of ideas, but I have so much respect for the traditions and philosophy of this place, I hope I can just add to what my family have created. We are craftsmen – and women! Sometimes wine becomes art, but in any event it should never be sterile. Wine should talk about a place, to bring its personality to the table and to tell a story."
The Crozes Hermitage AOC
The Crozes-Hermitage Appellation d'Origine Controlée (AOC) is in the Northern Rhone, not far from the prestigious appellations of Cote-Rotie, Saint Joseph or Hermitage. The area received its status as an official wine AOC in 1937 and was expanded in 1952 as the wines began to receive worldwide recognition. While for many years the appellation was dominated by large cooperatives, the Combat family have quietly built a reputation for wines of exceptional quality at their family domaine and are partly responsible for taking the AOC to new heights on the world stage.
What makes Domaine des Combat special?
Sandra focuses on fruit forward, personality driven wines that sum up the best the appellation has to offer. The White is made from 100% Marsanne grapes that are grown on 40-year-old vines, the red from 100% Syrah – the mainstay of Rhone Valley reds. Under her direction, the grapes are carefully nurtured on vines that her trained up to an enormous 2 metres in height – to capture the maximum light. They are debudded and stripped in early September to encourage air circulation. Grapes are hand harvested and selected on sorting tables so only the very best go on to vinification. Both red and white wines are vinified at low temperatures to preserve all the freshness of the fruit. 
Was it a wrench for Pierre to hand over control to his daughter?
Pierre Combat has worked tirelessly over the last 3 decades to bring Domaine des Combat into the spotlight and to ensure longevity and quality to the vineyard. We asked her if he was sad to hand over the reins. He is clearly proud of his daughter's commitment and achievements to date and in her words,
"I may be head of the winery, but I definitely don't try to get ahead of myself," she laughs. "I still rely on my father's invaluable experience and advice." 
There is no doubt in our minds that Sandra Combat is one to watch. 
"To make wine, everything starts with the soil."
Sandra Combat
Domaine des Combat
The Crozes-Hermitage red and white wines from Domaine des Combat
Perfect wines for the festive season