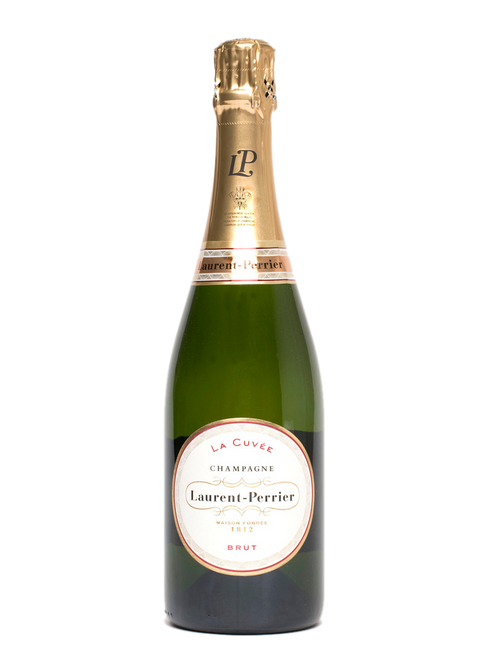 Champagne Laurent Perrier La Cuvée Brut N.V.
Grape
Chardonnay
Pinot Noir
Pinot Meunier
Laurent Perrier Champagne needs no introduction and is one of the world's leading labels. We love it for its deliciously fresh and easy palate, and lovely toasty hints. It remains in the same family and is made to the same high standards that established its first class reputation and multiple awards.
Awards
GOLD MEDAL 2019 SWA (Sommelier Wine Awards)
GOLD MEDAL 2019 TCSWWC (The Champagne & Sparkling Wine World Championships)
How it's made
It's unusual to find a Champagne of this calibre that is still family owned and independent - which allows it to continue to produce world class wines that adhere to their original values - and as ever - with respect for the environment. Established in 1812 by the original family, it is Bernard de Nonancourt who bought the ineyard in 1939 who is credited with the creation of the Laurent-Perrier style of freshness, elegance and purity. To do this, he revived and took over the traditional ways of champagne, but also launched new approaches at both technical and blending level - and it is still this that gives this Champagne its utterly unique style and elegance. The Champagne is made from 45% Chardonnay, 40% Pinot Noir and 15% Pinot Meunier in a blend that alters slightly according to each vintage but that remains year on year a perfect example of the continuity of the house. One of the first to put sustainability at the forefront of their methods, they continue to grow and cultivate with utmost attention to detail. The Champagne is aged for a minimum of 4 years before release.
In the glass
Pale gold colour with a delicate, complex nose - lots of citrus and white fruits. Fresh and easy on the palate with a creamy mousse and notes of honeysuckle, ripe peach, citrus and a toasty note on the finish. Well balanced with fresh acidity.