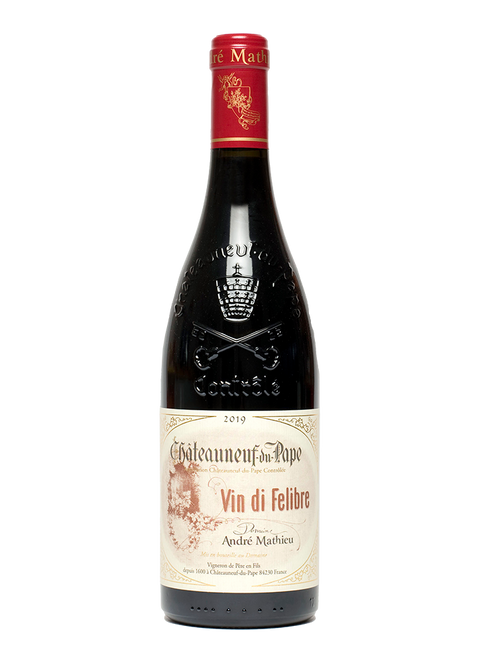 Chateauneuf-du-Pape AOC Vin di Félibre 2019, Domaine Andre Mathieu
Style
Structured & Powerful
Exceptional Cuvée from Domaine Mathieu. Limited stock - and a rare treat for lovers of this exceptional Rhone appellation. Still has plenty of cellar life and drinking well now. Ideal gift for lovers of fine wines.
How it's made
Jerome and André Mathieu work on 70 year old vines in their ancestral vineyard - that dates back to the 16th century. They are one of the few CNP growers who use all of the 13 permitted grape varieties to create a blend that continues to surprise us year on year. This cuvée is made from 90% Mourvèdre with the other grapes only making up 10% of the rest - but it is the delicate balance they achieve that adds so much complexity and elegance to this wine. The vineyard is divided into 58 plots providing them with enough soil variety to produce this wide range of grape varieties and to select those that will go into each cuvée. Low intervention with maturation for 12 months in old oak barrels.
In the glass
Deep, dark-red hue with a real plummy, blackcurrant punchiness on the nose alongside more subtle earthy undertones. The palate is multilayered beginning with red wild berries and plums before softening to chocolate and spice. Long, elegant, complex finish with structured tannins. An absolute treat.