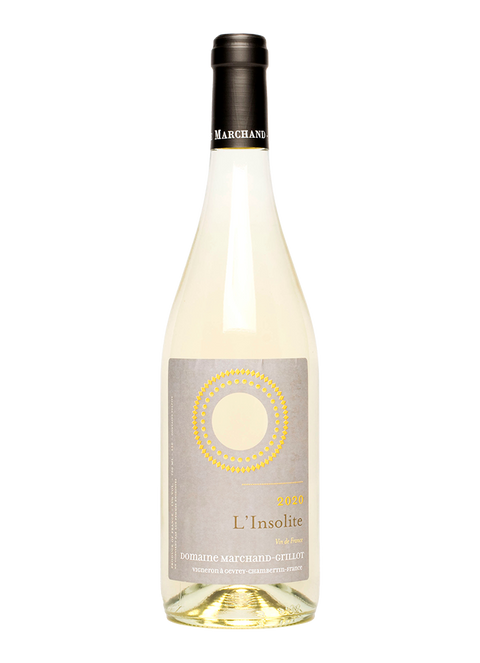 L'Insolite 2020 VdF, Domaine Marchand-Grillot
Grape
Pinot Beurrot
Pinot Blanc
Chardonnay
One of the rare finds we love so much. Made by Burgundy masters Jacques, Marion and Etienne Marchand - this white burgundy is made to the highest standards expected of these growers. Pinot Beurrot (local name for Pinot Gris), Pinot Blanc and Chardonnay provide a wine that is both lively and aromatic and a joy to drink. 
How it's made
Jacques Marchand, his daughter Marion and son Etienne are fifth and sixth generation winemakers based primarily in the village of Gevrey, in the heart of the Cote de Nuits in Burgundy. In this white wine, they use Pinot Beurrot (the local name for Pinot Gris), Pinot Blanc and Chardonnay to make a beautifully fresh, lively and aromatic white wine. Grapes are hand picked and pressed whole - the juice is cold settled retaining only the finest lees. Wild yeast fermentation for 15 days with temperature control before being transferred to barrels to finish the fermentation.
In the glass
Aromatic and lively with notes of pear and grapefruit. Balanced mouthfeel with lots of roundness from the Pinot Beurrot alongside the fruity freshness of the Pinot Blanc and Chardonnay with a fresh, elegant and complex finish.